The increased security measures in airports over the past decade have made screening annoying and uncomfortable for travelers in a number of ways. Perhaps the dirtiest of which is the requirement to remove your shoes when going through security. Just the thought of the thousands of bare, sweaty feet traversing that same narrow path is enough to turn your stomach, but the reality is foot fungus is actually a very real health hazard as well.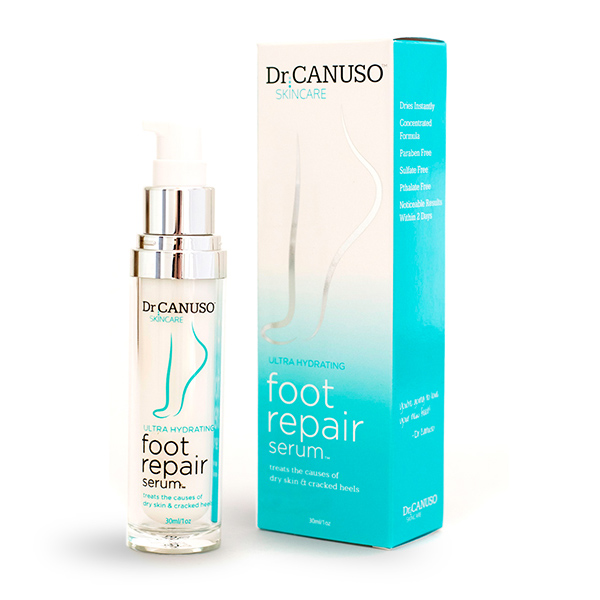 Foot fungus is highly contagious, and in a place where so many people are walking barefoot, the risk of infection is high.
If you've got a trip coming up, here's how you can prevent being infected with foot fungus, and how to treat it on the road.
There's a reason it's a convenient 1oz size! Put the serum in your purse and apply it to your feet while in line for security. Once you're through screening, sit down and reapply the serum before putting your shoes back on. Applying the serum before and after possible exposure to fungus will prevent you from picking up an infection!
More Tips For Traveling With Foot Fungus
Plan Ahead – Begin treatment as far in advance as possible. With Dr. Canuso's Skincare for Feet, you can begin seeing results in as little as two days with the Daily Exfoliating Cleanser and Foot Repair Serum. With daily application of the Fungal Nail Eraser, new nails grow in clear and strong as the anti-fungal compounds cure nail fungus and prevent recurrence.
Get A (Safe & Healthy) Pedicure – If you have foot fungus, proper maintenance of your feet and shoes is imperative to healing and preventing future infections. Find a spa that takes safety seriously and bring your own pedicure set, then relax and let a professional pamper your tootsies.
Pack The Essentials – Pack your Dr. Canuso's Skincare for Feet products and continue treatment on-the-go
Beautiful Feet Tip: Make your daily foot treatments a real treat! Whether at home or traveling, plan your treatment for the end of the day. Take your time as you cleanse, exfoliate and massage your feet, then apply the serum and nail treatment. Then, take a few moments to relax or meditate as the healing products sink in and work their magic.
Don't wait until it is too late. Order Dr. Canuso's Foot Repair Serum today.